Recently a claim has been circulating under the title 'Bear Grylls Wanted To Join Indian Army After Getting Out Of School' on Social Media Facebook.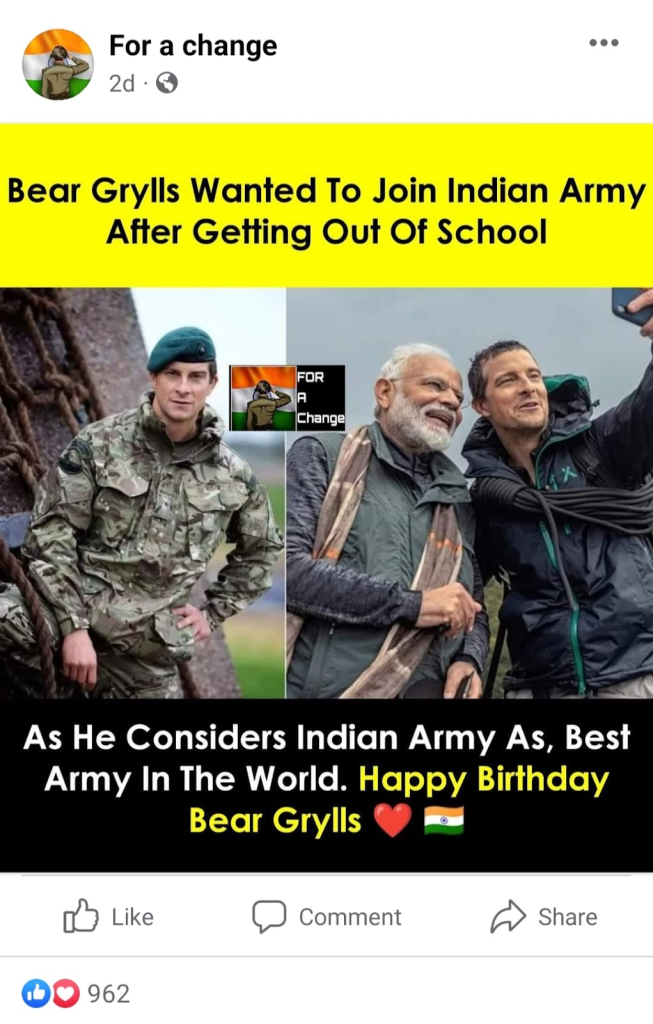 Check out some of Facebook posts here (archive) and here (archive).
Fact-check
According to Rumor Scanner's investigation, no reliable sources have been found for Bear's comment about his desire to join the Indian Army, but a different comment about the Indian Army can be found in an interview given by him to an Indian media outlet.
At the beginning of the investigation, through a keyword search, an interview report of Bear Grylls was found in the online edition of the Indian newspaper Hindustan Times, published on May 28, 2015 titled "I'd love to film in India, says Bear Grylls".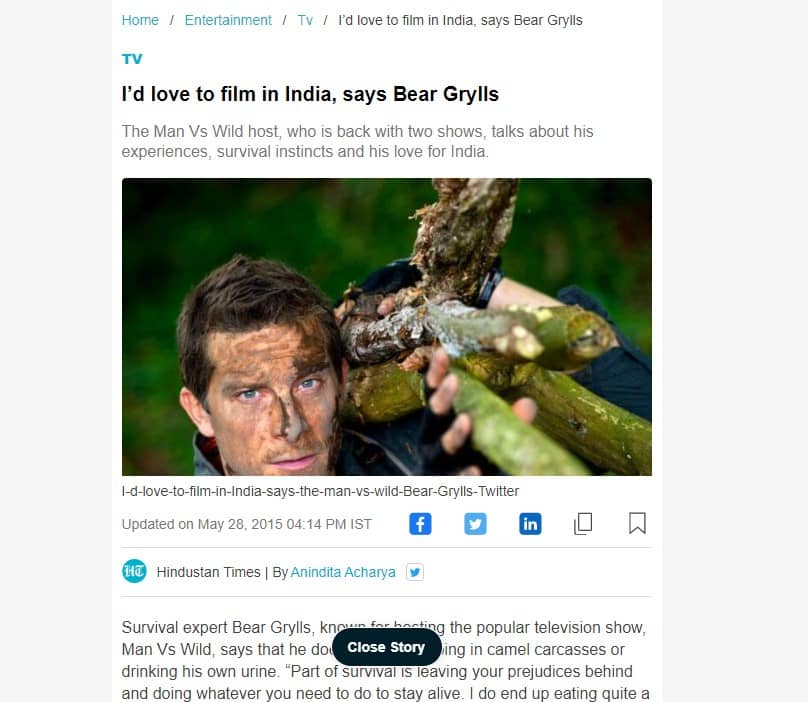 In response to a question in the interview, Bear Grylls said,
"I'd love to film in India. There are so many wild places. There are some great jungles. It's got everything — huge mountains and amazing desserts. It's on my list. I spent quite some time in India before I joined the army. I went out there climbing, and up in West Bengal and all around Darjeeling. I love India. We were in Calcutta for a while and then we were with the Indian Army as well. It's a place I really love, and I'm really looking forward to getting back there for a long time."
That is, he said in the interview, he came to India before joining the British Army and spent time with the Indian Army at that time.
Basically, after this interview of Bear Grylls the claim that Bear Grylls wanted to join the Indian Army after finishing school spread on social media and this claim has been circulating on the internet since June 2015.
A detailed search of the edit history of the Wikipedia page of Bear Grylls shows that, a Wikipedia account named Lglukgl first added information about Bear's wanting to join the Indian Army to his Wikipedia page on June 12, 2014, with a report from hmforces.co.uk as a source.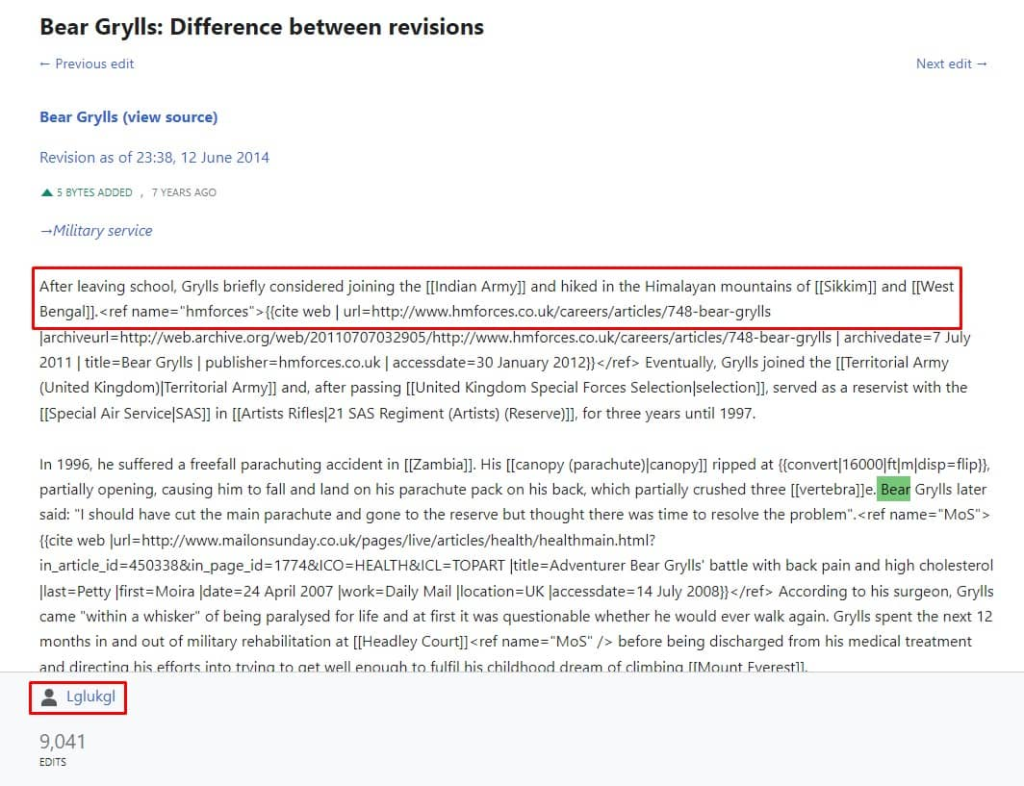 The report cannot currently be found on the site, but the page can be found in the archives there.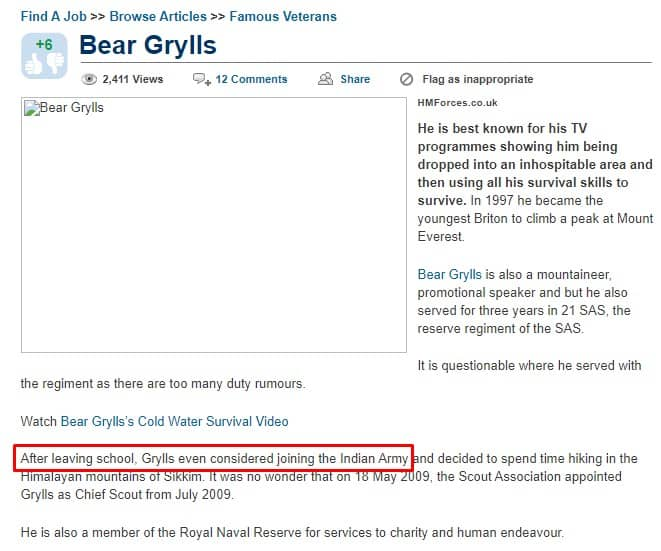 Later, on May 19, 2016, the part that Bear wanted to join the Indian Army was changed again by a Wikipedia account named Tgowtham.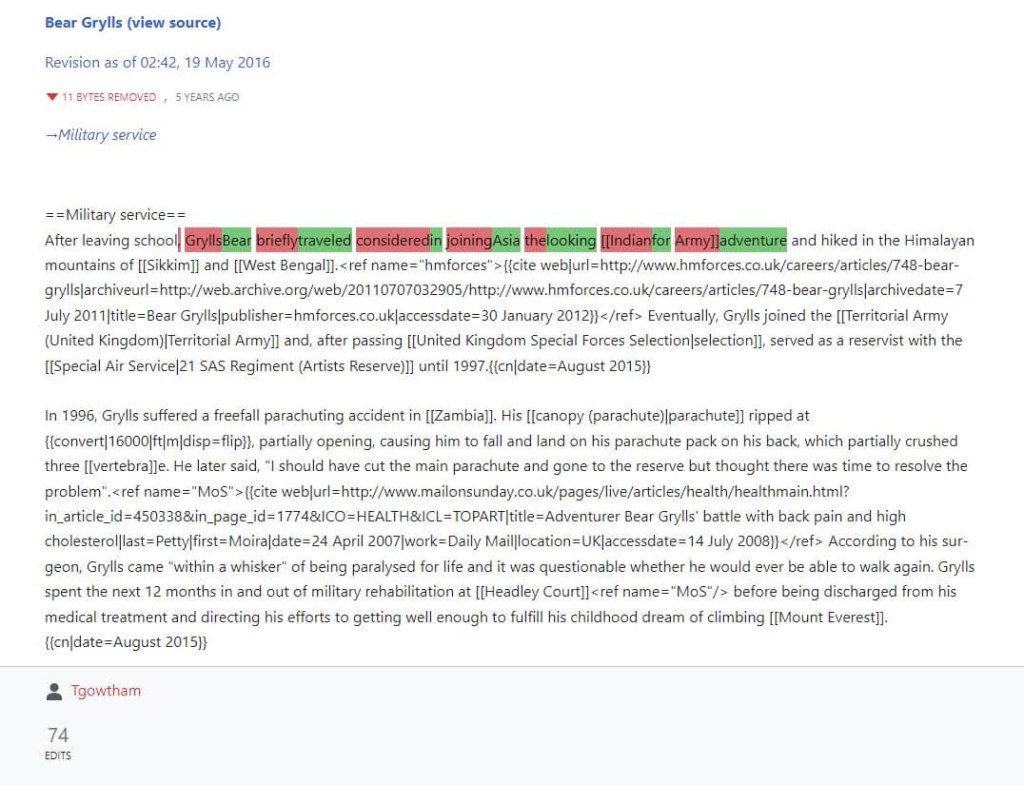 Notably, Bear Grylls is a British adventurer, writer and television presenter. He is best known for his 'Man vs. Wild' television series. He has also been associated with a large number of television serials in the UK and the US. Bear Grylls joined the British Army and served in the United Kingdom Special Forces(reserve). He worked in the Special Air Service for three years till 1996. In 1996, Bear Grylls suffered a parachute accident. As a result, Bear Grylls has to stay away from all military activities. After his recovery, his childhood dream of conquering Mount Everest was ignited and he conquered Mount Everest at the age of 23. Bear Grylls was promoted to the honorary rank of Lieutenant Commander in 2004 for his contributions to humanitarian service.
So, the claim that Bear Grylls wanted to join the Indian Army has been circulating on the internet since 2015 without any source which is actually baseless and false.
Sources