Recently, some pictures of snow leopards on top of the Himalayas along with information titled "Snow leopard at 18 thousand feet of Himalayas" are being circulated in media and social media.
Check out some of the posts circulating on Facebook with the same claim – here, here, here, here and here. View archived versions of these posts here, here, here, here and here.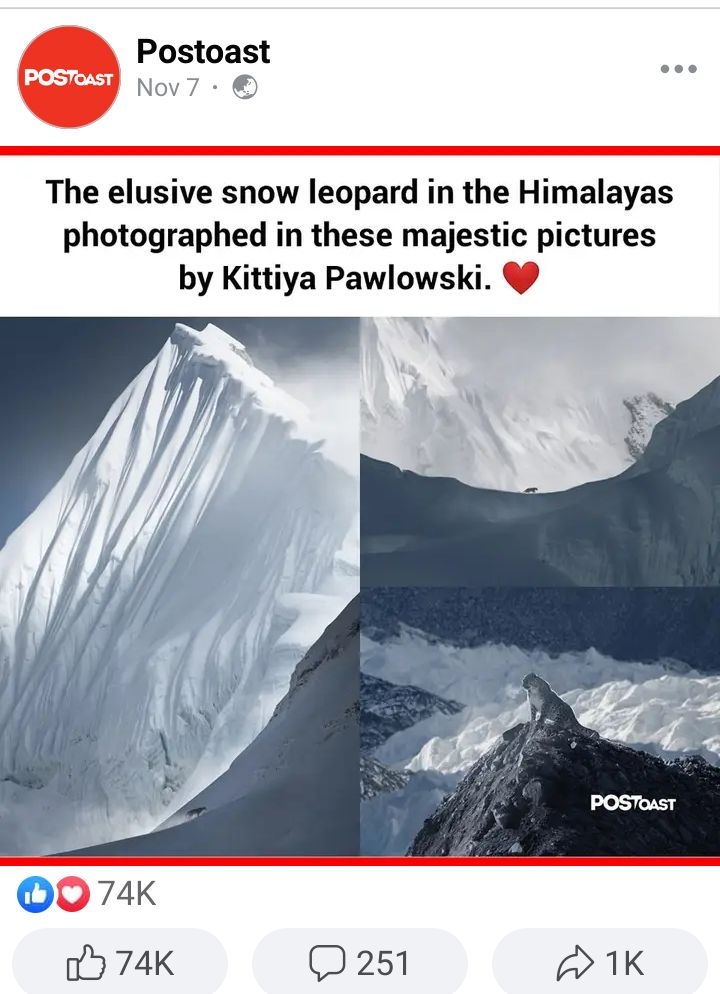 See media reports with similar claims – The Indian Express (India), Ajker Patrika (Bangladesh), nepal press (Nepal)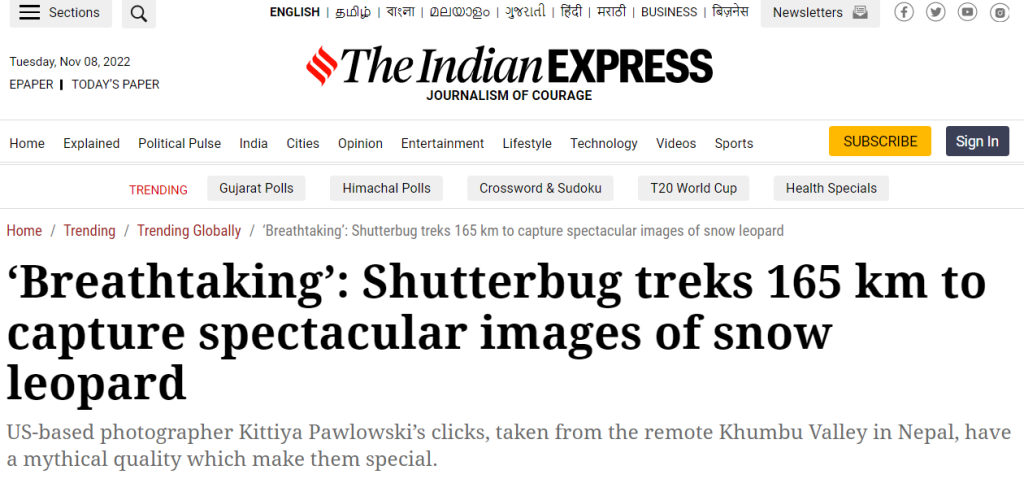 Check out some of the videos circulating on YouTube with the same claim – here, here and here. Check out the archived versions of the videos – here, here and here.
Fact Check
According to the rumor scanner's investigation, US photographer Kittiya Pawlowski's claim to photograph a snow leopard at 18,000 feet in the Himalayas is not true, rather Poulowski admitted that she circulated the images by splicing multiple photos through Photoshop.
The story of Kittiya Pawlowski and the so-called snow leopard
In early November this year, an American photographer named Kittiya Pawlowski posted some pictures of the snow leopard on her social media account which she took on her camera at an altitude of about 18,000 feet in the Himalayas. After the post, Pawlowski's pictures went viral around the world. The pictures spread through mass media and social media.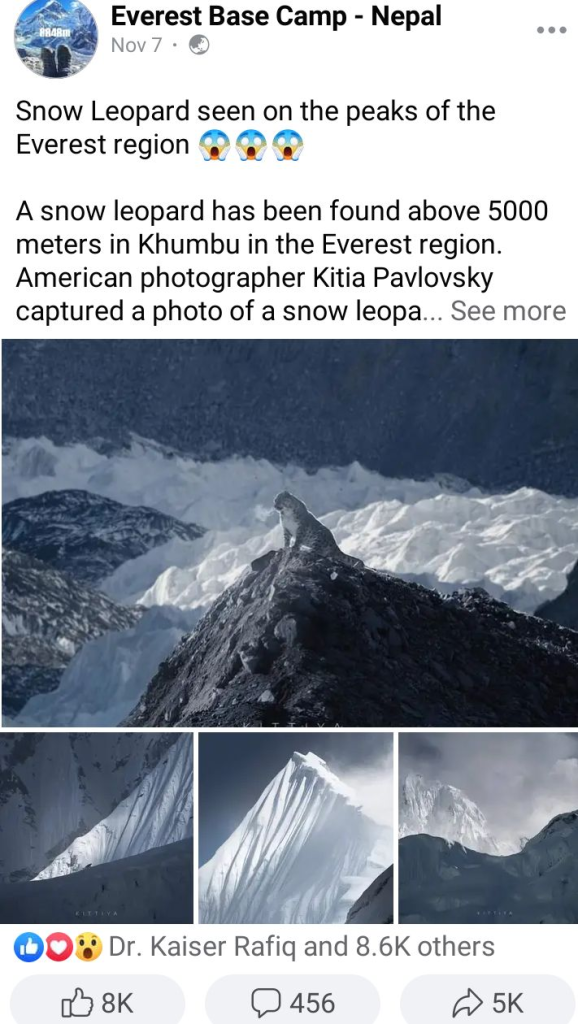 Kittiya Pawlowski wrote a blog about this on her personal website. She wrote the story behind taking these pictures in detail. "Looking through the telephoto lens of my camera at 18,000 feet, I noticed something in the shadow of Mount Pumori. At first, I thought it was a rock, but it was exactly what I was looking for," she said in a blog titled "Ghost of the Himalayas" (archive).
Pawlowski wrote, "October 9, the full moon washed the icy Himalayan peaks in ghostly light, obviating the need for a headlamp. Overnight, flurries of fine snow particles filled the air, soaking my sleeping bag in icy dew. Snow leopards are most active around dawn and dusk. At 4 A.M. I put on my boots and set out. The night had a cold, phantasmal beauty. With 25 pounds of camera gear, I headed Northeast of Gorak Shep and crossed a frozen lakebed. The snowy mountain slopes glittered like they were sown with diamonds."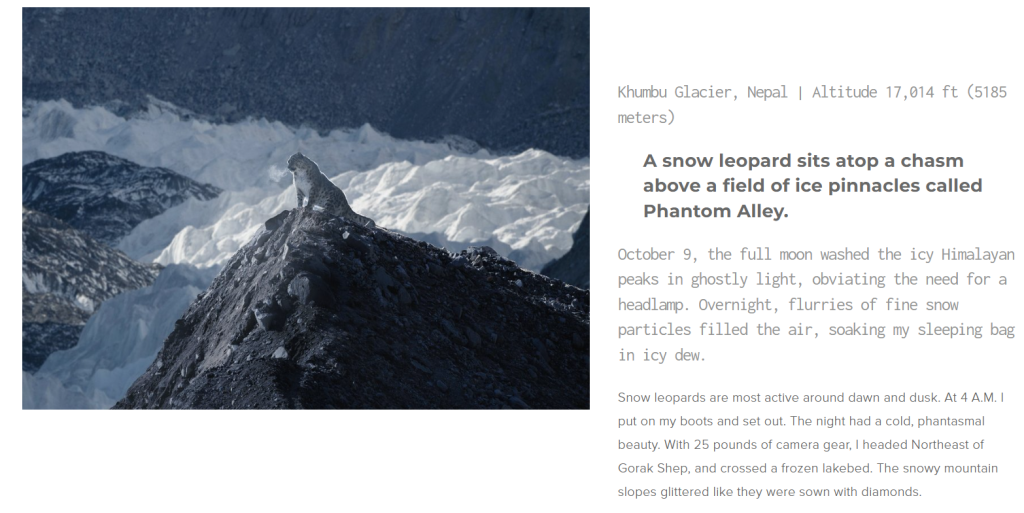 As seen in the photo taken by Kittiya Pawlowski, A "Snow leopard" sits on top of the "Phantom Alley" or "Ghost Alley" glacier of the Khumbu Glacier in the Himalayas of Nepal. She took another such picture in the same glacier. But that's a little different.
Pawlowski wrote,'' After backpacking through Earth's most forbidding terrain, lung-starving altitudes, soaring peaks, and high deserts-this was the most difficult and rewarding set of photos I've ever taken."।
That is, as Kittiya Pawlowski writes in her blog, she has photographed snow leopards or snow leopards.
How did the doubt arise?
On November 26, a Facebook post from an account named 'Apu Nazrul', titled "কত চোর এলো গেলো (How many thieves came and went!)" in Bengali, came to the attention of the Rumor Scanner team.
Mr Apu Nazrul wrote in his post, "This beautiful lady named Kittiya Pawlowski's pictures of Snow Leopard in Khumbu region near Everest (18000 ft) in Nepal went viral all over the world. The lady sold the one-time use copyright or print version only in media for 1500 pounds. Millions of dollars! Millions of followers on Instagram. Advertising-endorsement! But after so long it was known that the photos are Photoshop! Her bizarre stories, lack of record of wildlife photography in the past, reluctance to provide raw files to investigators, dismissing the possibility of snow leopards at 6300 meters by wildlife experts and finally identifying the pictures as fakes by experts have broken Kittiya's house of cards in a month and a half!"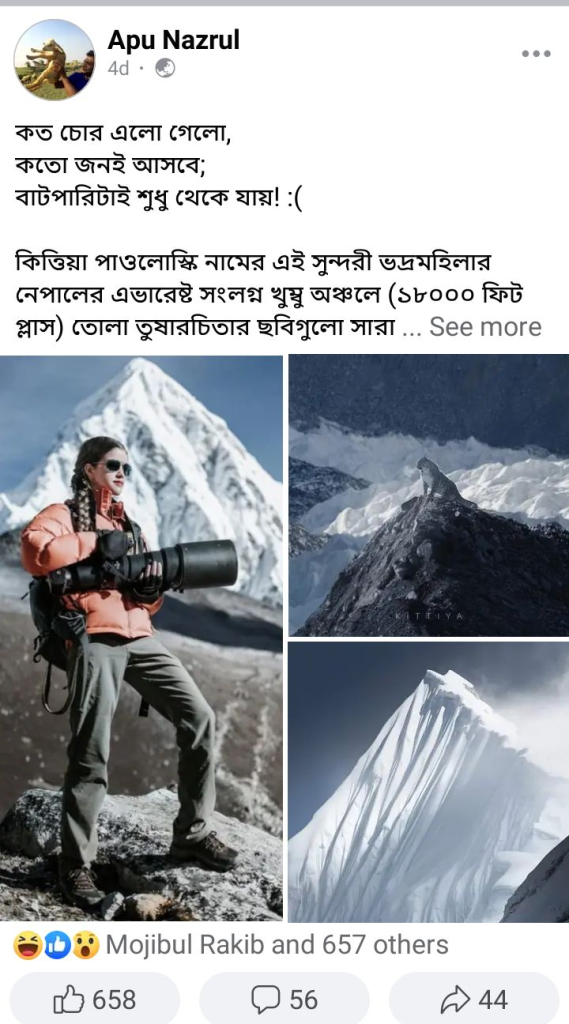 As of this post, links to Kittiya Pawlowski's Instagram and Facebook accounts mentioned on her website found both accounts suspended. The sudden shutdown of the account that made Kittiya Pawlowski known around the world through her posts is natural to raise suspicions.
Alpine began to doubt
Later through keyword search method A report titled "THE FAKE SNOW LEOPARD: PHOTOMONTAGE SPREAD AROUND THE WORLD" was found on the website of the French-based mountaineer, journalist, writer and photography magazine 'Alpine' last November 25.
Alpine wrote, "The pictures taken by Kittiya are manipulated (basically using Photoshop-like software). A team of mountain photographers and mountain wildlife experts analyzed the images and made the verdict. At least three of all the pictures taken by Kittiya have been manipulated."
Renowned French wildlife expert Vincent Munier told Alpine, "Despite its name, the snow leopard is a rare animal that rarely sets foot on the snow. They mainly live in rocky areas where they can find their food. Most wildlife photographers have seen the snow leopard move very quickly, which is why its images are almost impossible to capture."
"The Snow Leopard in Kittiya's picture couldn't possibly be true," says Vincent.

On the other hand, Mountain photographers have identified the photo taken in the background of Mount Pumori in Kittiya as part of a ridge of Mount Nuptse. Snow Leopard was seen walking on this ridge.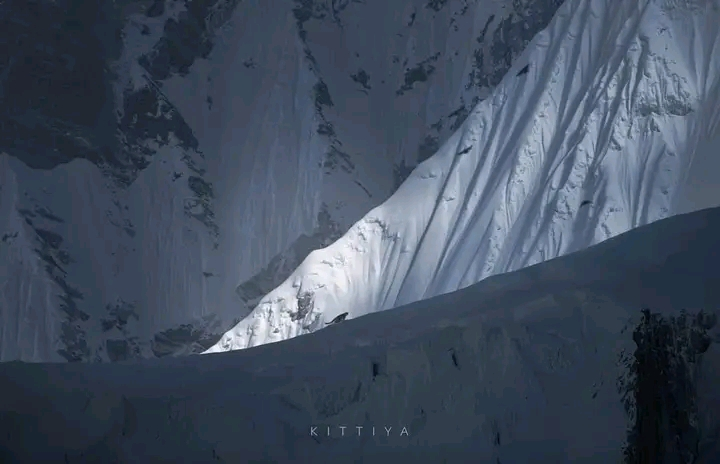 Vincent Munier told Alpine, " A leopard posing sitting down is highly improbable. But there, with that background, it's uncanny. In one of the photos, it's the light that doesn't fit, it looks like there are two suns. They are the sort of photos you can spend a lifetime trying to get. I think it's really bad not to differentiate."

Before the Alpine authorities released their report, They asked Kittiya Pawlowski for high-resolution copies of the four images. Within hours, Pawlowski sent them the pictures.
Alpine authorities analyzed the images and found that the images were taken with a Nikon D850 camera. The photos were dated 01/01/2018. Such dates are usually mentioned at the time of camera purchase. If the settings are not changed, the date remains the same even after battery life expires. Upon further investigation, Alpine authorities emailed Kittiya Pawlowski again requesting to send the 'unaltered source files', but Poulowski did not reply them.

The Rumor Scanner team tried to contact Kittiya Pawlowski via mail to find out about this. But there was no response from her.
Confessions of Kittiya Pawlowski
While the Rumor Scanner team is investigating the matter, An article titled "Photographer Admits That Viral Snow Leopard 'Photos' Are Fake" was found on the photography, art and imaging technology website 'PetaPixel' on November 28.
The report says, "Photographer who claims to have taken spectacular photos of Himalayan snow leopards admits they are photoshopped."
Before publishing the report, Petapixel authorities also contacted Kittiya Pawlowski. Like Alpine, Petapixel authorities also asked  Pawlowski to provide the original unedited photo files, but Pawlowski refused to provide them. However, she admits, the Snow Leopard pictures are made by combining two to four pictures.

Petapixel's report cites a statement on Kittiya Pawlowski's personal website.
Regarding the statement, Petapixel said, "All my photos are edited and processed in Photoshop and Lightroom. Some photos are composites, some are not. Some are only lightly retouched. I am not a journalist. I never said that my photos were not edited anywhere."
Later, based on this information, A report titled "Disclaimer READ BEFORE CONTACTING ME" (archive) was found on Kittiya Pawlowski's personal website.
This portion of the statement cited in the Petapixel report appeared at the beginning of the blog written by Kittiya Pawlowski.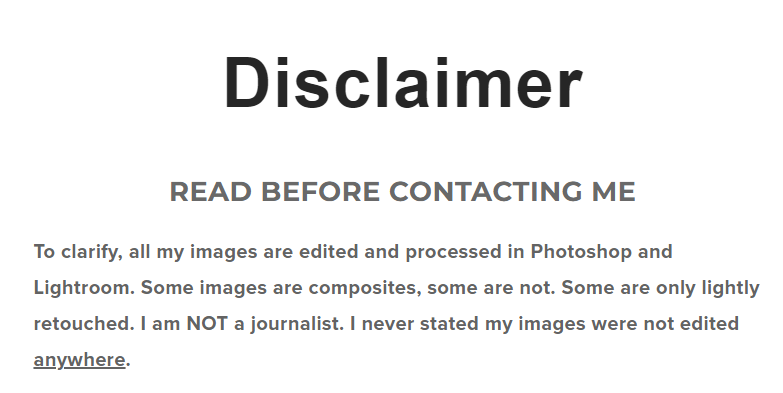 Pawlowski wrote on his blog, "News and media from around the world stole my images and published them with their own meaning. They did not ask me if they were edited. They interpreted them in their own way and spread them around the world. They told their followers that they were not edited. This is untrue, I always edit my images."
Pawlowski claims that all the pictures are taken by her and that the stories behind the pictures are true, "In September-October, I travelled to Nepal, took photos, edited them, and posted them on my Facebook Page to my 2000 friends and 1100 followers. The story behind this series is true, all of the images are taken by me. I did in fact walk 103 miles to take those images."
Pawlowski also clarified the purpose of taking pictures during her visit to Nepal. "My intent for the entire series was to raise awareness of snow leopard conservation. I sold a little over 50 prints and donated $787.50 to the Snow Leopard Trust."

Pawlowski said, "I am getting emails demanding that I provide processing videos, RAW files, etc for all of my images. I am NOT obligated to do that. There are hundreds of photographers that edit their images, change backgrounds, add big ass moons, lightning bolts, blur effects, fog, etc. I will not create detailed videos or add disclaimers to every single image about how every photo was processed. No one else has to do this, why am I the only person in the world required to do this? Every magazine on earth has edited images of models with photoshopped bodies/faces/etc. And they are not required to do this."

Stating her hobbies of photography and art making, the 24-year-old woman writes at the end of the blog, "Photography and making art is my side hobby. I am simply a 24-year-old girl that has a 9-5 job, likes to take/edit photos, and tries to raise awareness of conservation and help our planet."
Pawlowski claims he received threats about the photos, "Since I have received death threats for all of this, I have taken down my social accounts."

That is, in the wake of the debate over the authenticity of the photos of a white leopard taken with her camera in the Himalayas in Nepal, the photographer of the photos, Kittiya Pawlowski, admitted that she had edited the photos. Although she did not answer whether she had seen or photographed the snow leopard, she admitted that she had pieced together some of the images from multiple photographs.
Bottom Line
American photographer Kittiya Pawlowski posted on social media some pictures of snow leopards she took at an altitude of about 18,000 feet in the Himalayas in early November. Later, the French-based specialized magazine 'Alpine' said that at least three of all the photos taken by Kittiya were made by combining several photos. The team of experts in this matter analyzed the pictures and gave the verdict. In the wake of the debate over the authenticity of the photos, the film's photographer, Kittiya Pawlowski, has also admitted that she edited the photos. She said in a blog post that she has combined some pictures from multiple pictures. Moreover, renowned French wildlife expert Vincent Meunier says that most wildlife photographers have seen snow leopards move too quickly, making it almost impossible to photograph.
So, the claim is made of photographing snow leopards at 18,000 feet in the Himalayas; That is completely false.
Source